This page brought to you by: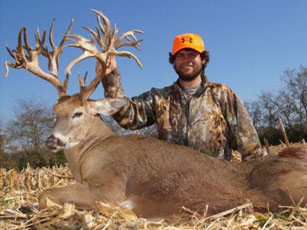 HUGE TENNESSEE BUCK COULD SET A RECORD

Update
Boone and Crockett officials spent several hours on January 9 scoring the 47-point buck tabbed the "Tennessee Tucker Buck" as the Nashville headquarters of the Tennessee Wildlife Resources Agency. The buck was harvested by 26-year old Gallatin resident Stephen Tucker.

The deer rack scored 312 3/8 in the Boone and Crockett tabulation. The tabulation was held after 60 days had passed since the original "wet" score indicated that the buck was a potential world record. As it stands, the score will break previous mark of 307 5/8.

Here's hoping you had a good season even if you didn't take a trophy buck!
___________

Volunteer State deer hunters are still talking about the huge buck taken recently that may well earn elite status. Here's the scoop from Tennessee Wildlife Resources Agency on the recent harvest of this trophy buck:

Stephen Tucker, 26, of Gallatin had a hunt of a lifetime, or perhaps what amounts to hundreds-of-thousands of lifetimes, if you count the millions of hours hunters have spent pursuing white-tailed deer through generations.

Tucker bagged a buck while muzzleloader hunting in Sumner County in Middle Tennessee and as it turns out, this deer's unique set of antlers has 47 points totaling more than 300 inches in length.

Because the buck's rack was so unique, Dale Grandstaff, a captain with the Tennessee Wildlife Resources Agency, measured it using Boone & Crockett Club requirements for non-typical racks.

The impressive deer, taken with a muzzleloader on November 7, had a gross (green) score of 313 2/8ths inches. However, after subtracting deductions for reasons defined by Boone and Crockett, Capt. Grandstaff determined that the buck has a net (green) score of 308 3/8ths inches.

"When I first saw the buck, I thought this is going to be a state record for sure because it had about the same number of points as our standing record, but it surprised me when I measured it and it went above 300 inches," said Captain Grandstaff. "That is something you just don't ever expect to measure as a certified scorer."

Taken in Iowa, the current world record buck is 307 5/8ths inches. Even if Capt. Grandstaff's measurements are accurate, there is a chance that a required 60-day drying period for the antlers could shrink that length below world record status.

Grandstaff noted that plans right now are for the antlers to be measured again in January at TWRA's headquarters.

Tennessee's current state non-typical record is 244 3/8ths inches, also killed by a hunter in Sumner County in 2000, giving the Tucker Buck an excellent possibility of shattering the state record.

If other certified scorers agree with Captain Grandstaff's recent conclusion--and he noted that so far he is the only professional who has measured the rack--then the next phase of scoring will occur when Boone & Crockett members meet at an awards banquet in the spring of 2019.

When that happens, other certified scorers in the Boone and Crockett Club will lay tape measures to the rack and ultimately decide if Tennessee's conclusion stands, whatever that conclusion becomes, after January 2017.

Regardless, until Nov. 7 of this year, only one free-ranging white-tailed buck harvested by a hunter with a muzzleloader had ever been certified as having more than 300 inches of antlers on its head, according to Capt. Grandstaff. That deer is the current non-typical world record killed in September of 2003 in Monroe County, Iowa