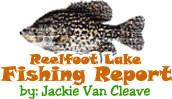 Reelfoot Lake Report for:
April 12th, 2002
The Dogwoods are blooming and that means it's Crappie Spawning time. While the crappie fishermen haven't been wearing them out, they are doing a lot better this week and with the continued warm weather it should be prime spawning time in the days ahead. We've gotten a lot more reports of 50+ fish per day in the last few days.
The lake temperatures are ranging from 58-64 degrees and the lake is still around 1 foot above normal pool. Here's the rest:
Crappie- Crappie fishing has picked up a lot since last week, but still hasn't hit full swing. Look for the continued warm weather to move the fish shallower and shallower. There are some bank fishermen starting to bring in some fish, so they have already reached the shallows (2-3 feet) in some areas.
Some of the best action has been in 6-10 feet of water in the last couple of days, with most of the fish being caught on or near the bottom. A few are also suspended at these depths. Remember, they should be moving shallower, so just keep these depths in mind as a general guide.
Minnows are the top producing bait.
Bass- Bass Fishing has been hit and miss. A couple of good days followed by a couple of bad days. Anglers have had some success with black lizards rigged texas style and bang-o-lures.
Catfish- Not many reports, but the few reports have been fair. Nightcrawlers and stinkbait are the baits of choice.
Bluegill- They seem to be picking up and from the reports we're getting the beginning of bluegill season is just around the corner. The fishing would still only be considered fair at this point. Try feather jigs for bait.
Yellow Bass- No reports. A few are being picked up while fishing for other species.
Click Here
For Other Fishing Reports
For more information on Jackie Van Cleave's guide services: Call 731-538-2547