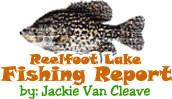 Reelfoot Lake Report for:
April 19th, 2002
Right now is prime time for crappie and bass fishing on Reelfoot. Catfishing and bream fishing are also starting to pick up a little.
While high winds have still been a problem, the warm weather has provided consistently good fishing both deep and shallow. There is never a guarantee that you'll catch a bunch, but as Jackie says, "Nothing good comes easy". Get out there when you can because the conditions are right.
Surface temperatures have reached the 72 degree range and both bass and crappie are spawning.
The lake is still around 1 foot above normal pool.
Here's the rest:
Crappie- I'm tired of talking about wind, but it continues to be a big factor on Reelfoot. Plenty of crappie are being caught in shallow water, where casting a minnow or jig under a bobber will produce some good catches, but if the wind lays then try some water between 6-9 feet. We are getting good reports from both ends of the lake and a lot of catches of 50-60 are coming in. Now don't go out there and just expect to catch a boat load of fish. Fishing doesn't always turn out the way it should, but the conditions are as good as they may be all year.
Bass- Bass Fishing conditions are very good also. Try fishing around stumps in 2-5 feet of water for good results.
Some of Jackie's favorite baits include white/chartreuse spinnerbaits with a bronze willowleaf blade, strike king 4-S crankbaits in green with a black back and black lizards. If you can find the black lizards with yellow spots that even better.
Catfish- Catfishing has really picked up since the last report. A lot are being caught while fishing for other species also. So, if you were actually fishing for them, you should do well.
Any area that has current or almost any cover available is liable to hold a few of em. Try stinkbait or nightcrawlers in 4-7 feet of water for good results.
Bluegill- They continued to pick up this week with the warm weather. Try the same depths as the catfish with a black or yellow hair jig (popeye jig) tipped with a waxworm.
Yellow Bass- No reports. A few are being picked up while fishing for other species.
Click Here
For Other Fishing Reports
For more information on Jackie Van Cleave's guide services: Click Here
---