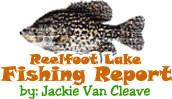 Reelfoot Lake Report for:
April 26th, 2002
Bluegill- The best bluegill fishing of the year has been had this past week and it should be good for the next couple of months. This warmer weather has produced some catches of around a hundred a day in the last couple of days. Try fishing 2 1/2 to 4 foot of water with a waxworm or cricket for good results.
Crappie- Crappie fishing is still good overall. Try fishing in 4-5 feet of water for a good chance at em. However, they are also catching fish deeper and shallower than that. With lots of them bedding up, you might need to cover some ground to find the prime areas. But, once you find a prime area stick with it for a while. You're liable to catch a few in a small area. Minnows are the top bait.
Bass- There have been some reports of good catches (numbers) of bass, but they have been mainly males (smaller fish). A lot of the big females have laid their eggs and are tough to catch right now. After spawning out they seem to find a good spot and rest up for a while, to recuperate from all they've been through. Try a white spinnerbait or a 6" black floating plastic worm (without a weight).
Catfish- Catfishing is getting even better and will probably continue to be good throughout the summer. Best depths are 5+ feet of water. Top baits are nightcrawlers and stinkbait.
Yellow Bass- Starting to pick up just a little, very little. Still a little early for them.
Click Here
For Other Fishing Reports
For more information on Jackie Van Cleave's guide services: Click Here
---