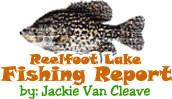 Reelfoot Lake Report for:
April 5th, 2002
March came in like a lion and went out like a tiger. High winds continue to keep most crappie anglers on the bank or at least away from their favorite spots. Bass anglers have had access to a few less windy areas, but the recent cold fronts have made for some tough bass angling also. If we ever do see a few nice days in a row things should change in a hurry. Here's hoping that April provides at least a few angler friendly days.
One way to try and beat the wind is to fish early or late in the day. At these times you just might have a chance of light winds. I repeat "might" have a chance.
The water temperature is ranging from 53 on the open water to 58 in some of the shallower areas. The lake level is about 1 foot above pool.
Crappie- Crappie fishing has been slow. Although it's the time when things should just be picking up, wind and cold have kept them very confused. The next week or so is supposed to have warmer temperatures and could see a major improvement.
They are catching a few in 10 feet of water on the main lake when the wind will let them out there.
Remember to fish slow when dealing with these adverse weather conditions.
Bass- The Reelfoot Bass Club Tournament held on Saturday saw some good catches. The winning team brought in a 5 bass limit that weighed over 22 lbs.. Word has it that they were caught on spinnerbaits and swimmin image crankbaits. Having said that, the cold weather has once again put a damper on the bass this week. The best luck is still in shallow (2-3 feet) water, but it may take a couple of warm days to get em biting again.
Catfish- No reports this week.
Bluegill- slow
Yellow Bass- slower
Click Here
For Other Fishing Reports
For more information on Jackie Van Cleave's guide services: Call 731-538-2547