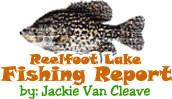 Reelfoot Lake Fishing Report for:
April 11th, 2003
Once again, the fishing scene can be described in one word...WINDY! After posting some good reports Monday, the wind has been blowing ever since. While fishing has been below average, the reported catches aren't really a good indicator of what the potential is. The potential for some good fishing is there, the wind just won't allow it. Jackie says you've got two options right now. Either fish the shallows on the protected banks or get a really big boat and use a car block for the anchor.
If the wind lays, it's time for some great crappie fishing. The "weather gurus" have winds predicted to be anywhere from 5-15 on Friday and possibly even lighter on Saturday. If the wind is at 5 mph you better get out there early. Boat ramps will be overflowing from impatient anglers who've been biding their time over the last two windy weeks.
Water temps are at 61 degrees and the lake level is at pool level. Here's the rest:
Crappie-Reports we've been getting in the last couple of days have been slow due to the wind. Anglers just haven't been able to get on their preferred spots. They have been catching some good sized fish in the shallower water, just not many of them. Most of the fish have been males preparing the beds. Females have yet to move in.
If the wind dies down, try 8-10 foot of water, or right around there. Three to four foot depths have been productive also. Minnows and road runner style jigs have been the baits of choice. Here's a couple of nice ones caught this week by,,,guide Jon Hale.
Bass-Not many people trying them this week. But, it's a good time for bassin on Reelfoot, especially since they're in the shallow water areas that provide some protection from the wind. Top baits include white/chartreuse spinnerbaits and black lizards rigged texas style.
Catfish-Not many people trying them either, because the depths they're in (6-8 feet) are out in the wind. Nightcrawlers and stinkbait are top baits.
Bluegill-Anglers continue to bring in some good catches of bluegill. Much of the focus that would be on the crappie has been redirected to bluegill in the shallows. Catches of 40-50 are not uncommon. Try the shallow water around the trees. Top bait has been feather jigs tipped with a waxworm. Jackie is partial to popeye jigs. We'll give some more information on these next week. They are made by a variety of companies, but the main feature is the big eyes.
Stripes-no reports.
Click Here
For Other Reelfoot Lake Fishing Reports
Jackie Van Cleave is a guide for Blue Bank Resort. For more information on Jackie's guide services: Click Here
---
Questions and Comments:
Email the Webmaster
Here




Phone: 731-286-NETW
828 Granger Circle
Dyersburg, TN 38024
Page designed by : The Hometown Network
All contents except Mallards on front page and David Maass
artwork are property of Reelfoot.com