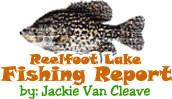 Reelfoot Lake Fishing Report for:
April 18th, 2003
The crappie fishing has been excellent this past week, mainly due to the fact that the wind has given anglers a break. Earlier this week, there were actually a few successive days of light winds and anglers took advantage. Good catches are coming from the shallows now, as the surface temp has hit 61 degrees. Spawning is underway and it's an excellent time to go after some crappie. We're not guaranteeing anything, but the conditions are right.
The weatherman is predicting 5-10 mph winds for Good Friday. After that who knows. Lake level is still holding steady at pool stage. Here's the rest:
Crappie-As mentioned, they are bringing in some nice stringers from the shallow water. Jackie's been bringing in lots of good sized slabs (1-2 lb.) in 4 feet of water. He fished a spot no bigger than 20 feet wide today and caught around 80, bringing in 42 of the nicest ones. Many folks out in the deeper water just haven't faired so well. They might be sticking with a pattern that was producing a week ago, but the fish seem to have moved shallower. Minnows are the top bait, as always.
Bass-Bass fishing continues to get better. Catches of 10-20 are common. It's hard to say what area is best, since they can be had on any part of the lake at certain times. But, don't worry much about water deeper than 5 feet. They are also shallow and readying for their spawn. Top baits include spinnerbaits (white/chartreuse), jerkbaits (minnow color or blue/silver) and even a few top waters (devil's horse for example) are starting to produce.
Catfish-Still not many folks trying them. Too many people chasing crappie. Should be fair/good in water 6 feet or less.
Bluegill-Still good. Feather popyeye jigs tipped with waxworms are working well. They're also shallow around the trees. We mentioned last week that we are going to cover more on the popeye jig this week. Well, we kind of missed the boat and will hopefully have some photos of the exact jig that Jackie uses in the next week or two.
Here's the gist of it: The popeye jig is a style of jig that is defined by it's big eyes. The ones that we're talking about are feather jigs. The feathers used often come from wood ducks. If you're ever duck hunting and kill a woodie, just lift up his wing. Directly under it are some beautiful barred feathers that are great for jig making. You'll know which ones when you see em. Don't let those go to waste next time. Tie up some jigs. They work well for both bluegill and crappie. I know a man that swears a jig made with these feathers is all you'll ever need to bring in panfish.
Stripes-no reports.
Click Here
For Other Reelfoot Lake Fishing Reports
Jackie Van Cleave is a guide for Blue Bank Resort. For more information on Jackie's guide services: Click Here
---
Questions and Comments:
Email the Webmaster
Here




Phone: 731-286-NETW
828 Granger Circle
Dyersburg, TN 38024
Page designed by : The Hometown Network
All contents except Mallards on front page and David Maass
artwork are property of Reelfoot.com