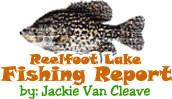 Reelfoot Lake Fishing Report for:
April 24th, 2003
Fishing remains good on Reelfoot this week, though the wind has been a factor, as always this time of year. Crappie fishing has drawn the most attention, but catfish and bluegill action has picked up also.
The water temp is at 64 degrees. The lake level is still holding right at pool level. Shallow water areas are clear and the main lake is stained. Good fishing conditions for Reelfoot all the way around. Here's the rest:
Crappie-The crappie seem to have moved slightly deeper in the last few days. Depths of 3 1/2 to 10 feet are working well right now. More females are being brought in which shows the spawn is at or near it's peak. Jackie predicts that the next few steady warm days in a row should trigger the best fishing all year. He brought in 35-40 good sized fish yesterday. With the wind at 15+ that's not bad.
Minnows are the top bait, but jigs are producing well also. Some of the top colors are blue/white, black/chartreuse and pink/chartreuse. Don't feel limited to this selection of colors. These are just some of the top colors that the guides are using. Something they haven't seen much could also provide some good action.
Bass-Bass fishing has been kind of hit and miss. Guide Billy Blakely brought a winning stringer of 18 lbs. in a tournament this last weekend. Not great, but not bad either. He was catching his fish on worms and jig/pig fishing slow. Right now you might want to try a faster moving bait at first (spinnerbait, crankbait) and then go to the slower baits if those don't produce.
Catfish-Jackie said he brought in a lot of catfish this week while crappie fishing. This let's you know that they are biting well. A good catch could probably be had if you focused on them. Try nightcrawlers, shad guts or stinkbait in 4-8 feet of water.
Bluegill-Still good. Feather popyeye jigs tipped with waxworms are working well. Look for crickets to take over as the top bait when the water temps hit 70+.
Stripes (yellow bass)-A few are being caught mixed in with the crappie. Still early for them. Most of the best action will be later in the summer.
Click Here
For Other Reelfoot Lake Fishing Reports
Jackie Van Cleave is a guide for Blue Bank Resort. For more information on Jackie's guide services: Click Here
---
Questions and Comments:
Email the Webmaster
Here




Phone: 731-286-NETW
828 Granger Circle
Dyersburg, TN 38024
Page designed by : The Hometown Network
All contents except Mallards on front page and David Maass
artwork are property of Reelfoot.com