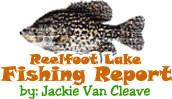 Reelfoot Lake Fishing Report for:
April 4th, 2003
***Update (4-8-03): We finally had a day that the wind laid a little and we had so many good reports that we thought we should post an update. The crappie and bass fishermen had great success yesterday (Monday). Crappie were being caught in a variety of depths including in 8-10 feet of water and in 3-4 feet of water.. Good reports came from almost every area of the lake. Minnows are working well and some anglers also had good luck casting black and chartreuse road runners.
Bass fishermen had good success with white/chartreuse spinnerbaits, minnow style crankbaits (bang-o-lures, rapalas) in silver/black and with tube baits (pumpkin seed and june bug are good colors) fished weightless. More than a few catches of 10-20 were brought in and one angler caught over 30. Some nice sized fish were mixed in.
Bluegill fisherman did pretty well also. They were catching them in 2-5 feet of water on waxworms, small hair jigs and a combo of the two.
Just to keep things real, there is a cold front coming through tomorrow and it could change all of this. But, if the wind lays it's a prime time of year for some good fishing on Reelfoot.
Back to the previous report (4-4-03)
If you've been around here lately, you know there's only one word to describe the fishing conditions ...WINDY. High winds of 20+ mph with gusts to 35 mph have been a constant for almost a week and it has limited fishing activities in many areas. They're predicting the wind to subside a little over the next couple of days (10-15 mph), so we could see better fishing. Warm temps since Tuesday should have the bass and crappie getting in the mood if the wind will just let you out there.
The good news is that the crappie are starting to be caught in the shallow water along the banks. So if you can find a spot sheltered from the southwest wind, you've still got a chance to catch some fish in the high winds. Kirby's pocket and Champey's pocket are two such areas.
Jackie and most of the guides haven't been out the last couple of days, as the wind has just been too fierce. But, the main lake temp on Tuesday was 54 degrees. Might have come up a degree or two since then. Shallows should be a few degrees warmer. Lake level continues to slowly drop and is now holding a couple of inches above pool.
One word of caution on the wind: We had another report of a swamped boat this week. When the wind is blowing as hard as it has, you've got to use your head out there. It is still possible to travel on Reelfoot without exposing yourself to the high winds, but don't try to cross the open water areas when it's blowing 20+ miles per hour. It's just not worth it to catch a fish. Here's the rest:
Crappie-There have been some fair catches of crappie despite the high winds. Try jigging around the banks with blue/white, black/chartreuse or pink/white tube jigs. Jig tight around the stumps for best results.
If the wind allows it, there should be plenty of untouched areas where the crappie have headed. We'd only be guessing at the exact depths. But, they should be moving shallower. Minnows should work pretty well in the open water.
Bass-Bass fishing was slow this week, despite our predictions of increased activity. Should be busting lose anytime now. Spinnerbaits in white/chartreuse, texas rigged black lizards and shallow running crankbaits are some good baits to try.
Catfish-Not many people trying them. But, you should be able to catch a few. Fish a little deeper if possible (6-8 foot deep). Nightcrawlers are the top bait.
Bluegill-Some decent catches of bluegill have been brought in this week also. Jackie says that catches of 30-40 are very possible. Another plus is that the bluegill are in the shallow areas, providing opportunities even in the wind. Waxworms and popeye jigs are good baits.
Stripes-no reports.
Click Here
For Other Reelfoot Lake Fishing Reports
Jackie Van Cleave is a guide for Blue Bank Resort. For more information on Jackie's guide services: Click Here
---
Questions and Comments:
Email the Webmaster
Here




Phone: 731-286-NETW
828 Granger Circle
Dyersburg, TN 38024
Page designed by : The Hometown Network
All contents except Mallards on front page and David Maass
artwork are property of Reelfoot.com