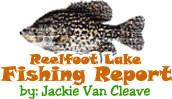 Reelfoot Lake Fishing Report for:
August 22nd, 2003
It's just hard to come up with a fishing report this time of year. There's just not much to say, except that it's hot out there. Not the fishing, it's just hot. Only species doing much is surprisingly the crappie. They're not doing great, but it's better in the last couple of weeks than it has been.
If you do head out there take plenty of water. The heat index has been up around the 105 degree range and it can be hard on you. Also, the black flies and mosquitos are pretty thick. Take some off too.
We usually try and keep it up beat. It's just not a good time of year for Reelfoot Lake fishing and there's no denying it.
Lake levels have now fallen back to a couple of inches below pool level. Water temps are around 87 degrees. Here's the rest, what little there is of it:
Stripes (yellow bass)- Been slow this week. Only ones being caught lately have been very small, even for yellow bass. Guess there was just a two week run this year. Still better than last year.
Bluegill- Slow
Crappie-Not usually a good time for em. But, it's fair right now. You can bring in a mess of them to eat. They are running a little small (mostly under 1/2 lb.), but a few pounders have been coming in too. Try minnows in 8-14 feet of water for best results.
Bass-Slow
Catfish-Slow
There is a little good news. Fall's coming soon, getting closer every day. Even had the first flight of blue-wing teal spotted the other day. Wood/Duck and Teal season is only a month away.
Click Here
For Other Reelfoot Lake Fishing Reports
Jackie Van Cleave is a guide for Blue Bank Resort. For more information on Jackie's guide services: Click Here
---
Questions and Comments:
Email the Webmaster
Here




Phone: 731-286-NETW
828 Granger Circle
Dyersburg, TN 38024
Page designed by : The Hometown Network
All contents except Mallards on front page and David Maass
artwork are property of Reelfoot.com