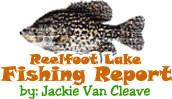 Reelfoot Lake Fishing Report for:
August 29th, 2003
Still not much to say. Crappie are fair, bass have picked up a little and would also be considered fair. Most other species are slow. Only good news is that rains and cooler temperatures are on the way this weekend. This upcoming rain should bring much needed oxygen to the lake and could pick a few species up for a while.
With the relatively mild summer we had this year, fall fishing could start a little earlier than usual. Still probably a few weeks away, but here's hoping.
Lake level is 6 inches below pool. It's been steadily creeping down, but that's a good level for this time of year. Water temps are in the high 80's. Here's the skinny:
Bluegill- Slow
Crappie-Still bringing in some decent catches this week. Would be considered fair overall. Try minnows in 8-14 feet of water.
Bass-The bassin has gone from slow to fair. A few anglers have had luck this week on spinnerbaits, spoons, buzzbaits and about any other topwater. They are chasing minnows around the lily pads.
Jackie recommends focusing on holes in the pads or points at the end of the pads. If it's a calm morning, start fishing out about 20-30 yards from the pads and work your way in. They'll often hang around out from the pads in such situations. Make sure and be as quiet as possible when in these calm conditions. Sneak in there on em.
Catfish-Slow
Stripes- Folks have been catching some, but they're very small on average. Not many keepers being brought in from the reports we've gotten.
Click Here
For Other Reelfoot Lake Fishing Reports
Jackie Van Cleave is a guide for Blue Bank Resort. For more information on Jackie's guide services: Click Here
---
Questions and Comments:
Email the Webmaster
Here




Phone: 731-286-NETW
828 Granger Circle
Dyersburg, TN 38024
Page designed by : The Hometown Network
All contents except Mallards on front page and David Maass
artwork are property of Reelfoot.com