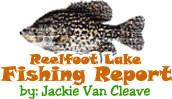 Reelfoot Lake Fishing Report for:
August 2nd, 2002
Same old summer story on the fishing report. The hot weather has kept the water warm and oxygen levels low, which means the fish ain't feeding much. Catfish and bluegill are providing a little action, but most other species are slow.
Water temperatures are in the low 90's and the lake level continues to hold a little below pool level, still a good level for Reelfoot this time of year.
The one time you can get in some good fishing during the heat of the summer, is after the rains. The rains provide much needed oxygen and cool the water temps. That will get em moving if anything will. Here's hoping for rain.
On a good note, there does seem to be a bumper crop of wood ducks this year on Reelfoot. Maybe they ate all the stripes.
Catfish- Catfishing has been fair. They've been catching some off of the visible stick ups (logs) near the southern bank lately. Also, try about 30-40 yards out from the flat top bonnets in the Rat Island Pocket area. Top baits are stinkbait and nightcrawlers. Fish early in the day for best results.
Crappie- Crappie fishing is slow and the ones being caught are small. This is just not a good time for Crappie.
Bass- Slow. Guide Billy Blakely went out the other day and caught one bass. When Billy's just catching one it must be real slow. If you've got to try em, try topwater or spinnerbaits. A good rain could help them a little.
Bluegill-There have been some pretty good catches of bluegill lately, but they are hard to find. Once, or if, you find them you can catch some. If you're really wanting to catch em, you might want to hire a guide. They can put you on the good spots and increase your chances for success a lot right now. Top bait is crickets.
Yellow Bass (stripes)- Still no reports. The lack of yellow bass action this year is strange to say the least. Doesn't look like it's going to happen. They must have swam out the spillway or headed for the high ground, or something. If anybody knows what happened, we'd like to know.
Click Here
For Other Fishing Reports
For more information on Jackie Van Cleave's guide services: Click Here
---