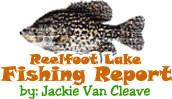 Reelfoot Lake Fishing Report for:
August 30th, 2002
Fishing remains slow overall, but some nice catches of Catfish and Bass have been brought in this week. Don't know if the cooler weather has got em turned on or if it's just a fluke. Prime fishing season is still a few weeks away, but this could signal the beginning of it. Look for bass and crappie fishing to pick up significantly somewhere around mid September. Here's the rest:
Bass-A few people have brought in some good catches lately. Same patterns as usual, spinnerbaits and spoons around the flat top bonnets and logs. Most of the fish being caught are small for Reelfoot standards (2-2.5 pounds), but still very nice average size bass.
Catfishing-This is still probably your best bet for some action at this point. Focus on the same areas as the bass, bonnets and logs. Try in 4-10 foot of water. Top baits are nightcrawlers and stinkbait. Chicken livers and cut shad should also work well.
Stripes-There were some stripes being caught, but not many people trying them lately. So, don't really know what they are doing right now. Should be able to catch at least a few, maybe more. Top bait is pin minnows.
Bluegill-Slow. Not much else to say.
Crappie-Slow, but should see a big increase in the next few weeks. Will let you know the patterns as soon as they start biting. Fall is a great time of year for crappie, especially with many sportsmen chasing deer and other woodland critters.
Have a good week and remember to keep what you need and turn the others back to fight again another day.
Click Here
For Other Fishing Reports
For more information on Jackie Van Cleave's guide services: Click Here
---