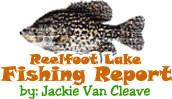 Reelfoot Lake Fishing Report for:
August 9th, 2002
Not much has changed, which means its still slow. They've been catching a few yellow bass finally, but that's about it. Bass, bluegill and cats are slow to fair at best.
Lake level is dropping and is now about 6 inches below pool. Water temp is in the low 90's.
Here's the skinny:
Yellow Bass (stripes)- Finally getting some reports on these little rascals. In the last week they have been schooling and some good catches have been had. While they're still not biting like gangbusters, they are providing the best action on the lake. The best depth to fish is 2-3 feet deep. Try a bobber, split shot rig. Use a small bobber, shot and hook for best results. Best areas are around the grassy shorelines at this time.
Catfish- Catfishing has slowed, although it's still one of the best bets for fishing this time of year. Stinkbait and nightcrawlers are the top baits.
Crappie- Crappie fishing is slow. That's about all we can say about it.
Bass- Remains slow to fair. Best areas are the mouths of ditches, points, logs, etc. Spoons and spinnerbaits are the baits that have been producing a few.
Bluegill- Slow to Fair. You can probably catch enough to eat, but that's about it. Crickets are a good choice for bait.
Click Here
For Other Fishing Reports
For more information on Jackie Van Cleave's guide services: Click Here
---