Reelfoot Catfishin
photos courtesy of Cypress Point Resort



Catfishing on Reelfoot Lake is maybe the most under appreciated natural resource the lake has to offer. Excellent catches in both number and size are easily had even by some of the more novice of anglers. Guide Bubba Parrish of Cypress Point Resort knows catfishing and here's his method for bringing in our whiskered friends:
Bubba fishes a commercially prepared stinkbait called Sonny's. It's available at many locations around Reelfoot. He uses a Doc's vinyl catfish worm (also available locally) and dips it in the Sonny's. Use a quarter to half ounce sinker on the end of the line with the worm attached about two feet up the line. Just throw it into shallow water around the stumps and keep a tight line. You won't believe the action.
Here's a couple of pics of Bubba using these methods earlier this week. Now don't expect it to be like this every time. But, you never know.
This picture was from a trip Tuesday morning in the Rat Island area, fishing 2-3 feet of water. Not a bad day's catch.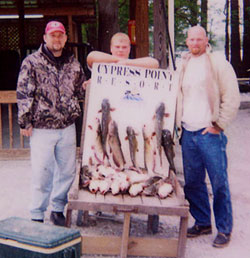 Well, that day wasn't over. Here's the cats they brought in on the afternoon trip on the same day.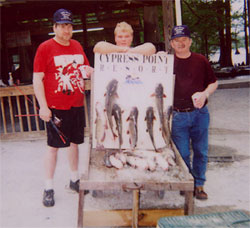 These are just the ones that they kept. I'm telling you folks, if you haven't tried Reelfoot Catfishin, you don't know what you're missing.