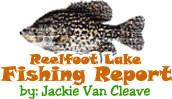 Reelfoot Lake Fishing Report for:
December 5th, 2003
Well, this ain't one of them full fledged fishing reports. But, we thought we would tell you what we've heard lately.
Crappie are biting well on the calm days in the deeper water (10+ feet). Anglers did exceptionally well on Tuesday. Might even be considered excellent.
Try some minnows fished right on the bottom and fish slow, real slow.
Crappie fishing should stay in the same pattern over the next few months. Doesn't matter if it's cold or warm as long as the wind will let you out in the deep water. Best times are usually after three or four days of steady weather.
Winter crappie fishing on Reelfoot can be the best of the year. So if you ain't chasing ducks and you've got a bunch of warm clothes, give em a try.
No reports on other species.
Click Here
For Other Reelfoot Lake Fishing Reports
Jackie Van Cleave is a guide for Blue Bank Resort. For more information on Jackie's guide services: Click Here
---
Questions and Comments:
Email the Webmaster
Here




Phone: 731-286-NETW
828 Granger Circle
Dyersburg, TN 38024
Page designed by : The Hometown Network
All contents except Mallards on front page and David Maass
artwork are property of Reelfoot.com