Ducks Unlimited members and waterfowl hunters throughout the U.S. are utilizing DU's Migration Map in unprecedented numbers. Surpassing more than 1.5 million page views within the site's first two months is allowing waterfowl hunters to utilize the migration map to improve their success in the field.
"We have continually built interactive applications for the site and the Migration Map," Jones says. "With the video contest, member photo application and the constantly updated content, it's not surprising that we have been able to reach 1.5 million page views in the first two months."
To view the site log onto www.ducks.org.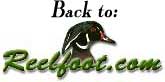 Page designed by : Reelfoot.com
All contents except Mallards and David Maass
artwork are property of Reelfoot.com