With the Tennessee duck season underway, TWRA urges waterfowl hunters to report leg and neck band numbers they find on ducks and geese to the U.S. Fish and Wildlife Service (USFWS).
The recovery of waterfowl band numbers reveals scientifically valuable information necessary to monitor migration patterns and manage North America's ducks and geese.

The USFWS has implemented a toll-free number for hunters to report band numbers.

The toll-free number is 1-800-327-BAND (2263). The information to report is the band number, the date of harvest, and the county or area of harvest.
Waterfowl bands are prized trophies to waterfowl hunters and do not need to be sent to the Wildlife Service. In return for reporting band numbers, the cooperating hunter will receive a fact sheet and a certificate appropriate for framing.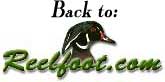 Page designed by : Reelfoot.com
All contents except Mallards and David Maass
artwork are property of Reelfoot.com