This page brought to you by:
LICENSE INCREASE TAKES EFFECT


A new license increase for sportsmen went into effect last week and for some it kind of slipped in under their radar. Tennessee Wildlife Resources Agency had announced it several months ago and while it was structured to kick in with across the board rises on July 1, there wasn't exactly a barrage of announcements reminding sportsmen of the recent change.

If you already purchased various licenses and permits back in late February or early March---each year the annual expiration date is the last day of February---then you're good to go until next year. The agency grandfathered in those who had already purchased licenses for the rest of the license year.

Those who wait until late summer or early fall to buy hunting licenses may get a bit of a surprise. And, those anglers visiting the Volunteer State looking to purchase 3-day and 10-day nonresident fishing licenses and others will have to dig deeper in their pockets.

For only the second time in 25 years, the Tennessee Wildlife Resources Agency sought and received the okay to adjust the way hunting and fishing licenses and fees are structured in order to maintain its wildlife, fisheries and education programs. The proposal includes some incremental fee increases and the inclusion of new user groups.

"This new fee structure will allow us to continue doing the good work we do every day for Tennessee's wildlife and fisheries into the foreseeable future, without having further cuts to programs," TWRA Director Ed Carter said. "We don't take these increases lightly, which is why this is only the second time in 25 years that we've sought such an action. But it's the reality of today's economy, and a burden we can all share incrementally."

All new license fees, along with a comparison to the old prices, are posted at www.tnwildlife.org or available at local license agents.

In summary, a few of the more popular licenses reflect the following increase: the basic annual hunting and fishing combo increased from $28 to $34; Sportsmen's tag increased from $136 to $166; waterfowl was $31 and will now be $38; youth hunt, fish, and trapping license went from $8 to $10 and nonresident all game went from $251 to $306.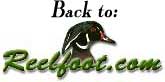 Page designed by : Reelfoot.com
All contents except Mallards and David Maass
artwork are property of Reelfoot.com