March Bassin on Reelfoot
They say a picture is worth a thousand words. So, to save myself some writing, here is a picture of some Bass caught last week.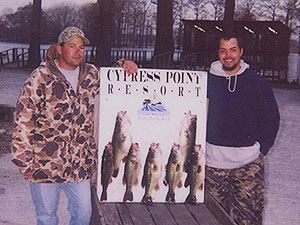 Guide Mark Pierce of Cypress Point Resort and a customer from Indiana caught these fish March 28th in the Upper Blue Basin area. They ranged from 2 to 4.75 pounds and were caught in 2-4 feet of water on Blue Crankbaits, June Bug lizards and Pumpkin Seed Jig and Pigs.
The bass fishing on Reelfoot is really heating up!