REELFOOT LAKE 1914 PHOTO
AND ARTICLE
From Reelfoot Lake Treasures
by Lexie Leonard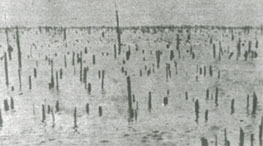 This photo is of Reelfoot Lake in 1914
Those are trees that died from being submerged
over a long period of time.
A man by the name of H. M. Wilson excavated a route from the west side of Reelfoot to the east of Reelfoot Lake through the sunken forest of tall, dead cypress so thick and ghostly looking that it was difficult to see a few yards.
By cutting trees below the water surface and following the river beds and basins, it was possible for a ferry to carry the mail across the lake. One could easily get lost venturing out too far into Reelfoot.
This waterway across the lake made it possible for the Key Stone Lumber Company to cut their timber and float it across to Keystone Pocket and then ship on the railroad running from the lake to the Mississippi River. They cut valuable walnut timber still standing in the shallow waters of the Moultry Field area.
The boat that cut the right of way through the lake sank in about 10 to 12 feet of water. A part of the boat stood up out of the water for several years. It sank about a third of the way from the Spillway to Green Island. No one seems to know what made the boat sink. The trees were so thick that the lake didn't get rough like it does now.
After many years the boat began to fall apart. It was put together with 1/2 inch bolts, and some are still shiny and not even rusty. I have pulled parts of the boat up with my fishing lines. The boat was about 16 feet long and 10 feet wide, and had some type of engine. There are some of this sunken boat's timbers on display in the State Museum at Reelfoot.
This boat was called a floating sawmill. Someone, perhaps Mr. Wilson, cut a route up into Kentucky for the Civil War gunboats that were placed around New Madrid, Missouri. The Wilsons owned land in Western Kentucky and held grants for land in land in Reelfoot Lake. A second route provided boat travel from New Madrid to the east side of Reelfoot Lake.