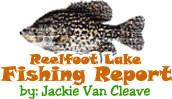 Reelfoot Lake Fishing Report for:
October 1st, 2004
Reelfoot had some good crappie action earlier in the week, but Thursday they seemed to turn off. Whether it was the cooler weather, the full moon or just the way things go is anybody's guess.
Despite the slow day, it's more and more evident that fall fishing patterns are close at hand. It may be this week, maybe next week. Just get out there when you can because it should get better and better over the next few weeks for both crappie and largemouth.
Catfish are still biting well and yellow bass have still been chasing minnows pretty well. Most other species are slow right now.
Water temperature is now at 70 degrees. Cool weather predicted for this weekend (lows in the 40's) should keep bringing it down.
Lake level continues to fall and is 6-8 inches below pool. We have needed some rain in this area for a while.
One item of note: We often mention certain lures/baits that are working well. By no means should you limit your fishing arsenal to the ones mentioned here. If you've got a favorite bass lure or catfish bait that you have confidence in, give them a try. The ones we mention are the favorites of the guides and we know for a fact that they've produced. But, that doesn't mean others won't. Here's the rest:
Crappie - Had some really nice catches on Tuesday and Wednesday. Then they turned off on Thursday. Our best guess would be that it will turn back on sooner rather than later. Some nice weather forecasted for this weekend. Many anglers are in the woods chasing venison. Sounds like a good time to try em.
The 10+ foot depth ranges are working well. Minnows are the top bait.
Bass - Slow this week. They really haven't begun their fall pattern yet, but should very soon. With water temperatures heading into the 60's their fall feeding should increase.
Bluegill - Very slow.
Catfish - Still holding their own. Would be considered good. Nightcrawlers fished around the logs in 4-8 foot of water are still a safe bet. Of course, stinkbait, chicken livers, cut bait and other favorites are worth a try too.
Stripes (yellow bass)- Still doing fair to good. Look for em chasing minnows and be ready with a small spinner or some pin minnows. Grassy shorelines and points are good places to catch them feeding.
Click Here
For Other Reelfoot Lake Fishing Reports
Jackie Van Cleave is a guide for Blue Bank Resort. For more information on Jackie's guide services: Click Here
---
Questions and Comments:
Email the Webmaster
Here




Phone: 731-286-NETW
828 Granger Circle
Dyersburg, TN 38024
Page designed by : The Hometown Network
All contents except Mallards on front page and David Maass
artwork are property of Reelfoot.com