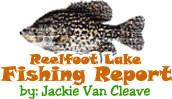 Reelfoot Lake Fishing Report for:
October 1st, 2007
Fall fishing hasn't really begun yet, but the crappie have been biting. The water temperature is dropping and it shouldn't be too long before we see the fall fishing kick in.
The lake is still very low, so be careful out there. We've got a lot of folks emailing worrying that they can't fish with the lake at this level. While the low water does pose a few problems (boat ramps very shallow, getting hung on stumps, etc.), if you just take it easy you should be fine.
The lake level has come up a few inches with the recent rains, but is still about 12-13 inches below pool level. The water temperature has cooled off a lot lately and is at 74 degrees. Here's the rest:
Crappie - Good if you can get to the deeper water. The last couple of days have had high winds and it's kept anglers in the shallows, where they aren't doing so well.
Jackie has had his best luck in 12-14 feet of water fishing anywhere from a few inches off the bottom up to 10 feet deep. Minnows are the top bait.
Just a note: Late October through early November is a good time for Reelfoot Lake Crappie.
Bass - Slow. Anglers are catching a few, but the best fishing is yet to come.
Bluegill - Really slow. They probably won't go on their feeding binge for a few more weeks.
Catfish - Slow. The catfishing has finally slowed down, probably due to the drop in the water temperature. Just another sign that the fall bite is nearing. They should pick back up soon.
Stripes - No reports.
Good Fishing!
Click Here
For Other Reelfoot Lake Fishing Reports
Jackie Van Cleave is a guide for Blue Bank Resort. For more information on Jackie's guide services: Click Here
---
Questions and Comments:
Email the Webmaster
Here




Phone: 731-286-NETW
828 Granger Circle
Dyersburg, TN 38024
Page designed by : The Hometown Network
All contents except Mallards on front page and David Maass
artwork are property of Reelfoot.com