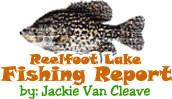 Reelfoot Lake Fishing Report for:
October 8th, 2004
Some nice cool weather this week. Had some windy days that are never welcomed by Reelfoot anglers, but fall fishing is at hand. Look for some great action in the next few weeks. There is a chance of storms over the next few days. Along with the storms we'll see some nice cool weather with highs in the mid to low 70's this weekend. Lows should be in the 50's. Ain't fall weather great.
Good reports this week for crappie, catfish, yellow bass and even the largemouth are starting to stir. Jackie wanted to make sure and point out that the crappie fishing should be really good after the first frost. Get your line changed and battery charged, because it will be a great time to hit the lake.
The highlight of this report has to be the latest Reelfoot Lake catfish bait or should we say catfish concoction. You can read about it below.
Lake level is still low at 8 inches below pool stage. We really need this upcoming rain. Might keep you folks off the lake intermittently, but overall it should be a good thing for the fish and for the soon to be arriving waterfowl. Lake temps have fallen to 67 degrees. Here's the rest:
Crappie - Jackie did well yesterday. Not great, but pretty well. Crappie fishing would be considered good at this point. He caught about 40 and kept 30 of em. Said the average size fish was nice, but didn't bring in many of the monsters. Still, a 75% keeper ratio ain't nothin to complain about.
They're moving shallower and he recommended depths of 5-8 feet right now. Minnows are the top bait. Even some of the die hard jig fishermen have been fishing minnows for the last week or so.
Bass - Starting to see some improvement with the largemouth. Still not at full stride, but the signs are pointing toward some good fishing ahead. Would be considered fair to good at this point.
Anglers had success this week with spinnerbaits (as always) and with 7" black plastic worms with a blue tail. Many other baits will work, but these two should always be considered an option.
Bluegill - In Jackie's words, "Slow, Slow". Anglers have been fishing hard just to bring in 8-10.
Catfish - Excellent this week. They're catching them about everywhere, around the banks, logs, lily pads and anywhere else you feel like trying. The one place that isn't producing right now is the mouths of ditches. With the lack of rain, there's not any water moving through them. The upcoming rains might change that and then the mouths of ditches will be a good place to try.
While the old tried and true baits (nightcrawlers, stinkbait) will always work pretty well, we found what is probably the most unique catfish bait we've ever heard of. Are you ready for this?
Some ingenious anglers have been using round steak cut into cubes (known by the guides as "beast meat") and are now soaking it in strawberry jell-o. Yep, strawberry jell-o. Who came up with this is anybody's guess. Just shows that Reelfoot anglers are a truly creative bunch.
Jackie said that you're supposed to mix the jello really thick and just soak the meat in it the night before fishing. He said to probably leave it at room temperature if you're going to use it the next day.
Of course it's not an exact science yet, so we don't know whether grape, cherry or watermelon jell-o will work as well. All we know is that it has worked well on both the lake and on the river. WE ARE SERIOUS ABOUT THAT.
Jackie also said to mention that he wanted credit given to fellow guide Billy Blakely for this concoction. Whether he's an actual originator or not, we don't know. But, we're hoping to get a jell-o patch added to his fishing shirt if possible.
Stripes (yellow bass)- There has been a lot of surface feeding from these little suckers this week. Jackie said to get out there early and cruise along the south bank in the Gooch's/Bo's Landing area. You're bound to see them striking on a calm day when they have minnows corralled.
Top baits are pin minnows and small white spinners such as rooster tails. Fish the pin minnows just a foot or two below a slip bobber. As always, the pin minnows are available at Bo's Landing.
Click Here
For Other Reelfoot Lake Fishing Reports
Jackie Van Cleave is a guide for Blue Bank Resort. For more information on Jackie's guide services: Click Here
---
Questions and Comments:
Email the Webmaster
Here




Phone: 731-286-NETW
828 Granger Circle
Dyersburg, TN 38024
Page designed by : The Hometown Network
All contents except Mallards on front page and David Maass
artwork are property of Reelfoot.com