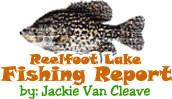 Reelfoot Lake Fishing Report for:
October 10th, 2008
The best fishing lies just ahead, at least it appears that way. Crappie are moving shallow this week. Bass continue to show improvement also. Get out there and enjoy it over the next few weeks. Fall provides some great action and you don't have to compete with the spring crowds.
One note: Jackie is heading to Orlando Florida for the Crappie Masters National Championship on October 15th-18th and we would like to wish him the best of luck. Jackie teamed with Tim Blackley to win the Crappie Masters tournament at Grenada, MS earlier this year to qualify.
The lake level is still very low at 17-18 inches below pool level. So, be careful out there with all the stumps that you're sure to encounter. Water temperature was 72, but might have dropped a degree or two. Here's the rest:
Crappie - Good. They're moving shallow and can now be caught in a variety of depths from 6-12 feet. Minnows are working well as always. Anglers are also doing well with blue/white jig combos, both trolling and jigging the stumps. Look for the peak fishing to hit soon.
Bass - Still just fair, but heading towards good. The middle of the day (around 10-2) has been the best time lately. Try the bonnets and moss seed areas.
Jackie really likes to work a black Johnson spoon right now. He'll add a skirt that has been trimmed about halfway. Try a white skirt on a cloudy day and a white skirt on a sunny day. Fish them over the tops of the bonnets or a few inches deep.
Bluegill - Still Very Slow.
Catfish - Catfishing has been hit or miss. A couple of good days followed by a couple of bad days.
Stripes (Yellow Bass) - Yellow bass continue to do well and would be considered good right now. Pin minnows (available at Bo's landing) work well. Anglers have also done well with small grubs. Jackie did well with a small smoke colored curly tail with some sparkle flecks in it.
Good Fishing to All!
Click Here
For Archived Reelfoot Lake Fishing Reports
Jackie Van Cleave is a guide for Blue Bank Resort. For more information on Jackie's guide services: Click Here
---


Phone: 731-286-NETW
828 Granger Circle
Dyersburg, TN 38024
Page designed by : The Hometown Network
All contents except Mallards on front page and David Maass
artwork are property of Reelfoot.com