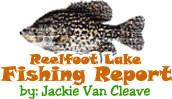 Reelfoot Lake Fishing Report for:
October 12th, 2007
Fall fishing is here. The crappie had slowed as of Wednesday, but they should be biting again, maybe they already are. Bass should also see a major improvement with this much anticipated cool spell.
Overall it's been a very warm fall up until this point, so the best action may be a little behind schedule at this point.
The lake level is still about 12-14 inches below pool level, so take it easy out there. The water temperature was 74 on Wednesday. Probably a couple of degrees cooler by now. Here's the rest:
Crappie - The front slowed the crappie fishing down, but it's still fair. As the weather stabilizes again they should resume the good bite. Jackie brought in 20 or so keepers on Wednesday. That's not a lot of numbers, but the size of the fish he caught was nice with a lot in the 1 1/4 lb. plus range.
The fish have been biting in the shallow water (4 feet or so) lately. Minnows are the top bait, but jigs should see some increased action in the upcoming weeks.
Bass - The bass fishing has been slow, but this cooler weather could turn them on any day. Hit the lily pads when they do.
Bluegill - Slow
Catfish - Catfishing is probably pretty good. Though Jackie hasn't been after them, he's picking up 4-5 while crappie fishing. That usually means that they are biting pretty well.
Stripes - Stripes have been biting very well lately. Find some slick water 3-4 feet deep. Use pin minnows and very small white jigs. Fish about 2 1/2 feet deep. Keep moving until you find them. When you find them you'll know it.
Good Fishing!
Click Here
For Other Reelfoot Lake Fishing Reports
Jackie Van Cleave is a guide for Blue Bank Resort. For more information on Jackie's guide services: Click Here
---
Questions and Comments:
Email the Webmaster
Here




Phone: 731-286-NETW
828 Granger Circle
Dyersburg, TN 38024
Page designed by : The Hometown Network
All contents except Mallards on front page and David Maass
artwork are property of Reelfoot.com