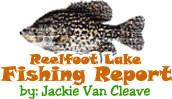 Reelfoot Lake Fishing Report for:
October 13th, 2006
Fall fishing, and fall weather, are in full swing. Crappie are really biting lately and the next few weeks should be a prime time on Reelfoot. Bass are also doing well.
You know that fall is here when the ducks start pouring in like they have lately. There has been a major influx of ducks with this last cold spell. But, duck season is more than a month away, so get out there and catch a few fish while your waiting on it.
While many outdoorsmen (and women) are in the woods hunting, you can enjoy the serenity of a day on the lake. It's a lot less hectic this time of year on ole Reelfoot.
Lake level is above pool level. Water temperature has really dropped and is now at 65. Here's the rest:
Crappie- Excellent. Jackie limited out on both Monday and Tuesday by 11:30. The wind was a little factor in the last couple of days, but they are biting. With the wind blowing you should catch a good mess. When you don't have to fight the wind, you could catch a great mess.
The 7-12 foot range has been producing a lot of fish. Minnows are the top bait.
Bass- Good. This cold front might have hurt them a little. Before it hit, they were biting. Soon after it passes they should be biting again, if they even slow down. Mouths of ditches, around pads and in pockets where the bait fish are should be prime spots to try.
Bluegill- Fair. Popeye jigs tipped with waxworms are a good combo.
Catfish- Fair. Whole shad has been the bait of choice.
Stripes (Yellow bass)- Excellent. Pin minnows around the shorelines work well. Top areas include Groom's Pocket, Swan Basin and out from White's Landing.
Click Here
For Other Reelfoot Lake Fishing Reports
Jackie Van Cleave is a guide for Blue Bank Resort. For more information on Jackie's guide services: Click Here
---
Questions and Comments:
Email the Webmaster
Here




Phone: 731-286-NETW
828 Granger Circle
Dyersburg, TN 38024
Page designed by : The Hometown Network
All contents except Mallards on front page and David Maass
artwork are property of Reelfoot.com