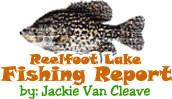 Reelfoot Lake Fishing Report for:
October 15th, 2004
Fall patterns continue and the good fishing continues. Crappie have been had in the shallow water this week. Good news since the wind has been a factor. Catfish and yellow bass are still doing well also.
Lake level has risen just a bit and is now four to five inches below pool stage. Should rise a little bit with the rains on Thursday. But, it's still low and you always need to take it easy when the lake is low. There are lots of stumps ready to smack your lower unit at these levels. Water temp is 64 degrees. Here's the rest:
Crappie -They continue to move shallower and continue to bite. Jackie had some good catches this week, with both quantity and quality. Bringing in some good sized fish in 3-5 feet of water. Minnows remain the top bait.
Bass - Fair to good right now. Catching them in the shallow water, as always. Top baits include top waters, tube baits and shallow running crankbaits in minnow patterns.
Bluegill - SLOW
Catfish - Still excellent. A variety of baits will work, but the ole nightcrawlers and stinkbait are some of the safest bets.
Stripes (yellow bass)- They continue to do well. If you can find a calm morning, you should see some nice schools chasing minnows on the surface. Be ready with a small spinner, such as a rooster tail. White is a good color. If you're strictly going after these little rascals, make sure and get some pin minnows also.
Click Here
For Other Reelfoot Lake Fishing Reports
Jackie Van Cleave is a guide for Blue Bank Resort. For more information on Jackie's guide services: Click Here
---
Questions and Comments:
Email the Webmaster
Here




Phone: 731-286-NETW
828 Granger Circle
Dyersburg, TN 38024
Page designed by : The Hometown Network
All contents except Mallards on front page and David Maass
artwork are property of Reelfoot.com