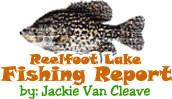 Reelfoot Lake Fishing Report for:
October 22nd, 2004
Couldn't catch Jackie on Thursday, as he was fishing the north end of the lake and the ole cell phone just doesn't pick up well in that area. Take note that: He's fishing the north end of the lake. While we've been receiving good reports from all over, if Jackie is up there then there must be a few crappie biting in that area.
The report this week comes from fellow guide Billy Blakely of Blue Bank Resort.
Overall, things are still doing well. Crappie, catfish and yellow bass are all biting. The largemouth continue to do better and better and have now joined the other three. Only thing that ain't biting is the bluegill.
Lake continues to rise with even more rain this week. Level is now at 3 inches below pool stage and rising. Water temps have now dropped to 62 degrees on the main lake. Here's the rest:
Crappie -Still doing well on both the north and south ends. On the south end try 6-8 feet of water and use minnows.
Bass -Continues to improve. Would now be considered good. They're biting well in the middle of the day, say 10:00-2:00. Spinnerbaits as always work well. Billy's favorite spinnerbait is a strike king premium elite with double willow leaf blades in silver. White and/or chartreuse are good colors.
Bluegill - SLOW
Catfish - Still excellent. The water is flowing through the ditches and that always makes them a good area to try. Depths range anywhere from 3-8 foot. Nightcrawlers and cut bait are safe bets to bring some in.
Stripes (yellow bass)- Good. They're still surfacing and still hitting the same baits (pin minnows or small white spinners.
Click Here
For Other Reelfoot Lake Fishing Reports
Jackie Van Cleave is a guide for Blue Bank Resort. For more information on Jackie's guide services: Click Here
---
Questions and Comments:
Email the Webmaster
Here




Phone: 731-286-NETW
828 Granger Circle
Dyersburg, TN 38024
Page designed by : The Hometown Network
All contents except Mallards on front page and David Maass
artwork are property of Reelfoot.com