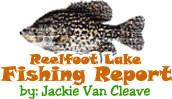 Reelfoot Lake Fishing Report for:
October 31st, 2007
We've seen some tough conditions over the past two weeks, but that's all behind us for now and the fishing has picked back up.
Almost a week of rain hit the Reelfoot area and though it kept the fishermen off the lake, it provided much needed water and has really raised the lake level in a hurry. After the rain stopped, the wind blew furiously for a few days, further delaying the return to fishing. All that's behind us now and the fishing is doing fine.
Rather stable weather is predicted in the foreseeable future, so get out there and enjoy it while you can.
Lake level is now 5 inches below pool level. Still a little low, but a major improvement over the past few months. It should also help get the lake ready for the upcoming duck season. Water temperature is at 58. Here's the rest:
Crappie - Jackie has done well for the last few days. They started biting again Monday and would be considered good for the last few days. Depths of 8-12 feet have worked well.
The fish are bunched up, so stay with them once you find them. Minnows are working well and jigs are just starting to produce.
Bass - Bass fishing has shown a major improvement. Try hitting the ditches early. When the sun gets up head for the pads, as they'll move in there. Topwaters are producing, but try what you have confidence in for the particular situation.
Bluegill - Guess it would be considered fair. Jigs tipped with waxworms should work well.
Catfish - Good. Anglers have had good success fishing shad around the cypress trees in 3-4 feet of water. You can fish them weightless. If you have trouble fishing without a weight, then try a small split shot. The fish will hit on the fall, so don't use a big weight.
Stripes - Nor reports.
Good Fishing!
Click Here
For Other Reelfoot Lake Fishing Reports
Jackie Van Cleave is a guide for Blue Bank Resort. For more information on Jackie's guide services: Click Here
---
Questions and Comments:
Email the Webmaster
Here




Phone: 731-286-NETW
828 Granger Circle
Dyersburg, TN 38024
Page designed by : The Hometown Network
All contents except Mallards on front page and David Maass
artwork are property of Reelfoot.com