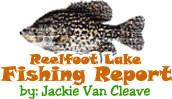 Reelfoot Lake Fishing Report for:
November 3rd, 2005
Not quite the fishing report we had a couple of weeks ago, still pretty dang good. Crappie fishing is still good, just not quite and hot and heavy. Catfishing is excellent and the bluegill are even picking up.
Lake level is now 4 inches below pool level. Water temps were around 56 degrees a couple of days ago. Here's the rest:
Crappie- Not the excellent report we had before, but still considered good. Anglers are bringing them in from a variety of depths (4-14 feet). Both minnows and jigs are producing. The color jig is really up to you. Jackie likes black and chartreuse.
They are bunched up, so stick with them once you locate a few.
Catfish- The catfish have really been biting lately. They're feeding heavily on shad right now and that's the top bait. Get a cast net and catch a mess of shad early before you head out. Try around the trees in 3-6 feet of water. You can use a float and a split shot or just hook one on a 2/0 or 3/0 hook and throw it out there.
Bass- Fair to good. Hit the shallow water with the usual baits (spinnerbait, spoons, buzzbaits and shallow running crankbaits).
Bluegill - Bluegill have picked up and would be considered good this week. Popeye jigs tipped with a waxworm work well. Focus on the ditches and the shallow water around the trees.
Stripes (Yellow Bass) - No Reports.
Click Here
For Other Reelfoot Lake Fishing Reports
Jackie Van Cleave is a guide for Blue Bank Resort. For more information on Jackie's guide services: Click Here
---
Questions and Comments:
Email the Webmaster
Here




Phone: 731-286-NETW
828 Granger Circle
Dyersburg, TN 38024
Page designed by : The Hometown Network
All contents except Mallards on front page and David Maass
artwork are property of Reelfoot.com