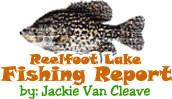 Reelfoot Lake Fishing Report for:
November 5th, 2004
The weather sure didn't help the fishing this week. Reelfoot Lake has risen about 10 inches since our last report and it has most species in a state of confusion.
Most fishermen haven't even been out, with all the storms and high winds, but the few reports have been bleak. Look for some more good fishing once the water level stabilizes and the lake clears up a little. Fall fishing ain't over, it's just been put on hold.
Water temps on the main lake were at 64 degrees on Monday, but have probably dropped since then. A major cold front came through yesterday and that's probably not going to help either. Lake level is around 10 inches above pool.
Note: Through the winter months we'll only post fishing reports intermittently. Most of the guides that help contribute to the reports will turn to duck hunting soon, including Jackie. If we hear of any big news, we'll post it. Regular weekly reports will return in the early spring.
Don't let this be misconstrued as bad fishing during the winter. Some of the biggest crappie caught all year are caught in the dead of winter. It's just that we find it hard to gather enough information to provide an accurate report while everybody's chasing ducks.
Speaking of duck hunting, they have really been coming in lately. This cooler weather has started the first major migrations of the year for Reelfoot. In Jackie's words, "There's so many that they're eating the brush off my blind". That may be a slight stretch, but things are looking good for the two day hunt next weekend. Here's the rest:
Crappie - Slow. If the weather and lake levels will stabilize it should pick back up. Start off in the deep water (10+ feet) and work your way shallower.
Bass -Slow, but you might find some chasing minnows in the ditches with current
Bluegill - SLOW
Catfish - If you're going to chase something right now, cats are probably your best bet. The current is really flowing through the ditches and that's always good for catfishing. The bonus is that the ditches also provide some relief from the wind.
Good ditches to try include Brewer Bar Cutoff, Horse Island and Dynamite.
Stripes (yellow bass)- Slow.
Click Here
For Other Reelfoot Lake Fishing Reports
Jackie Van Cleave is a guide for Blue Bank Resort. For more information on Jackie's guide services: Click Here
---
Questions and Comments:
Email the Webmaster
Here




Phone: 731-286-NETW
828 Granger Circle
Dyersburg, TN 38024
Page designed by : The Hometown Network
All contents except Mallards on front page and David Maass
artwork are property of Reelfoot.com