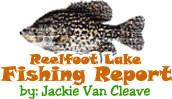 Reelfoot Lake Fishing Report for:
November 19th, 2004
We usually stop the weekly fishing reports about this time of year, but when they're still bitin, we're still postin.
I guess the unusually warm weather is a factor, but the fishing remains good for crappie, bass, catfish and even yellow bass.
Lake level is a couple of inches above pool stage and the water temps are still warm (upper 50's).
Jackie recommends fishing small feather jigs tipped with waxworms for some real fun. Folks continue to catch a mixed bag of crappie, bluegill and stripes in the shallow water and the jigs tipped with waxworms will catch them all. Try the shallow water (2 foot or so) in the ditches and various other spots.
Fishing minnows out on the main lake in 10-14 feet of water is also working for crappie right now, if the wind will let you out there. If the wind is blowing...see previous paragraph.
Catfish are still being caught in the mouths of ditches and around the scattered clumps of cypress trees. Nightcrawlers and shad are the top baits.
Largemouth fishing would be considered good right now also. The ole faithful white spinnerbait, as well as a variety of topwater baits, should be safe bets. They continue to chase minnows on the surface, so keep your ears and eyes open. Mouths of ditches and the bonnet patches are good areas to try.
Usually the yellow bass have turned off a long time ago. Not this year. Pin minnows and red/white headed feather jigs are still working well.
Click Here
For Other Reelfoot Lake Fishing Reports
Jackie Van Cleave is a guide for Blue Bank Resort. For more information on Jackie's guide services: Click Here
---
Questions and Comments:
Email the Webmaster
Here




Phone: 731-286-NETW
828 Granger Circle
Dyersburg, TN 38024
Page designed by : The Hometown Network
All contents except Mallards on front page and David Maass
artwork are property of Reelfoot.com