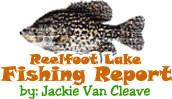 Reelfoot Lake Fishing Report for:
January 16th, 2004
Just thought we'd give you a crappie update, especially since it's a good one.
Anglers have reported good, if not excellent fishing lately. Most of the action has been in the deeper water (15+ feet) and if the wind is blowing you can hardly fish out there. But if it ain't then there's some good fishing.
Reports of anywhere from 60-100 fish per day have been reported this week from some of the locals. They're averaging good size too with plenty of 1/2 to 1 1/2 pound fish being caught.
Some anglers have also caught some nice stringers in the 8-10 foot range. Not a typical depth to be finding crappie this time of year, but nothing's typical about fishing anyhow.
Jackie recommends trying the deep water for a couple of hours first. Then if you're not doing much there, then slowly drift up in to the shallower depths mentioned.
Fish as slow as possible and don't move your minnow any more than you have to. The wind will not only keep you off the good spots, but even when it lets you out there it can hurt the fishing. The constant up and down movement of the bait just doesn't work as well during these colder months. Keep it still.
Oh yeah, minnows are the top bait.
Click Here
For Other Reelfoot Lake Fishing Reports
Jackie Van Cleave is a guide for Blue Bank Resort. For more information on Jackie's guide services: Click Here
---
Questions and Comments:
Email the Webmaster
Here




Phone: 731-286-NETW
828 Granger Circle
Dyersburg, TN 38024
Page designed by : The Hometown Network
All contents except Mallards on front page and David Maass
artwork are property of Reelfoot.com