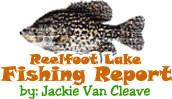 Reelfoot Lake Fishing Report for:
February 11th, 2005
Crappie fishing had been good until the cold front came through on Wednesday. In Jackie's words, "They were eating it up until the front hit".
Fronts are always a big factor in winter and early spring. Not only does the drop in temperature throw them off for a few days, but the winds that often accompany them don't help anglers a bit.
Look for the crappie to rebound in short order. Maybe even in a day or two. Good weather is predicted this weekend. Highs around 60. Might be time to dust off the poles and give it a try.
Anglers had been catching them in a variety of depths ranging from 4-14 feet. Minnows and jigs have both been producing some nice stringers. Jig colors include the old Reelfoot favorites (blk/chart, blue/white and pink/chart).
Lake level is still high. Somewhere around 6 inches above pool stage. We don't have a water temp right now.
Bass fishing also produced a few decent catches until the front hit. While it's still awful early for them, reports were fair on chartreuse and white spinnerbaits.
No reports on other species.
Click Here
For Other Reelfoot Lake Fishing Reports
Jackie Van Cleave is a guide for Blue Bank Resort. For more information on Jackie's guide services: Click Here
---
Questions and Comments:
Email the Webmaster
Here




Phone: 731-286-NETW
828 Granger Circle
Dyersburg, TN 38024
Page designed by : The Hometown Network
All contents except Mallards on front page and David Maass
artwork are property of Reelfoot.com