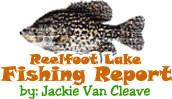 Reelfoot Lake Fishing Report for:
February 13th, 2004
Now that duck season is over a few more anglers have been trying the crappie. Crappie fishing has been good lately and they're catching some nice sized fish also. Winter and early spring usually produce larger crappie.
The main obstacle to catching them is the wind. When the wind blows hard you can't get to the deep water areas. But if you can find a calm day, the crappie "should" be biting.
Try the deeper water (12+) and fish slow. Once you find some, stay with em. They're probably bunched up pretty tight right now.
While minnows are the preferred bait, anglers have also had good success with jigs lately. One color that we heard was doing well was pink/red, but try a few colors just to see what'll work.
Try minnows on a pole or two and jigs on a pole or two til you find out what they're biting that day. Vary your depths a little also, but stay in the deeper water. Will probably be a few more weeks before they leave the deep areas.
In case you don't know where the deeper water is, it's mainly located on the lower blue basin west of Green Island Point. Of course deep is relative, especially on a shallow lake such as Reelfoot. Just find the deepest water in the area you're fishing and remember: FISH SLOW!
Also remember, this time of year the water is still very cold. Don't get caught out in high winds and don't overload your boat. Just keep and eye on the weather and use good common sense. You don't want to go swimming this time of year.
Our weekly fishing reports should resume in the next few weeks.
Good Fishin!
Click Here
For Other Reelfoot Lake Fishing Reports
Jackie Van Cleave is a guide for Blue Bank Resort. For more information on Jackie's guide services: Click Here
---
Questions and Comments:
Email the Webmaster
Here




Phone: 731-286-NETW
828 Granger Circle
Dyersburg, TN 38024
Page designed by : The Hometown Network
All contents except Mallards on front page and David Maass
artwork are property of Reelfoot.com