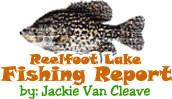 Reelfoot Lake Fishing Report
February 19, 2016

WARM DAYS AHEAD

Jackie Wayne's Back with another fishing report on Reelfoot Lake...
It appears the wait is over as warm weather is in the forecast.
Water temp is in the 40's to 50's witch is good, the lake level is about a foot high...also good.
Crappie are still in the deep water...I'm talking about 10- 12 feet deep, biting on double minnow rigs...also chart. jigs tip with minnows...fishing slow...I mean slow!
Bass are slow not much happening sorry but that's the way it is.
Bluegill no report.

Catfish are doing nothing...
...so your best bet is crappie. Get your tackle ready and make sure your boat is also ready. Don't forget to get your license. New fishing and hunting licenses will go on sale this weekend across the Volunteer State. Your current licenses expire February 29.

New licenses are good from the date of purchase so itís a good idea to get them ahead of time and not wait until the last minute. Oftentimes folks forget and discover themselves out on the lake with an expired license.

Prices have not changed from last year. The basic hunting and fishing combination, which is type 001, costs $34. Itís good until the last day of February 2017 and required for those ages 16 through 64 years of age, unless you purchase an annual sportsman license.

Licenses are available at several local licenses agents, county court clerk offices and online at www.tnwildlife.org.

Till next time God Bless and have fun!
Thanks Jackie Wayne !
.
For fishing guide give me a call....

731-431-9700
Jackie Wayne


Click Here
For Archived Reelfoot Lake Fishing Reports
For more information on Jackie's guide services: Click Here
---

Page designed by : Reelfoot.com
All contents except Mallards on front page and David Maass
artwork are property of Reelfoot.com