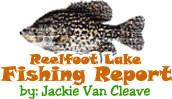 Reelfoot Lake Fishing Report for:
February 21, 2012

Reelfoot Lake is about 6'' above pool level. The normal lake level is 282.20. Water color is in good shape all over the lake. Surface temps this week were in the 45 to 50 degree range.
Bluegill: Slow
Crappie: Good: Crappie have continued to bite good with some nice stringers reported this week. Most stringers are coming from typical winter patterns 10 to14 foot deep trolling jigs and minnows. A few fish have moved into the 2 to 4 foot water around the trees. Some good quality size fish are being caught on jigs tipped with wax worms or crappie nibblets. Remember, the limit is 30 Crappie per day per man. There are no size limits on Reelfoot Lake.
Bass: Bass fishermen felt the grip of last week's cold snap as the bite was off this week. Although the bite has been off this past week things should continue to improve as weather patterns moderate.
Bass fishermen are talking about the Alabama rig. A multi-bait presentation that mimics a school of bait fish and triggers strikes from bass. Several lure companies are now selling the rig packaged with five separate wire and swivels, which is the standard anatomy of the rig but here in Tennessee that is illegal. Anglers here cannot fish it with more than three hooks or baits on a rig---Kentucky allows the five hook presentation---unless the hooks are size 8 or smaller.
For a video and explanation of the regulation on Alabama rigs go to the TWRA website at www.tnwildlife.org The agency has been inundated with calls from bass fishermen seeking clarification of the rig and its use. The language of the regulation is still somewhat confusing to the public and may require further review by TWRA if recent inquiries are any indication.
Catfish: Slow
Stripes: A few caught while crappie fishing
After a week of winter weather the fishing scene is rebounding as temperatures moderate and winds subside. Crappie and bass anglers were back out in force at midweek as temps climbed back into the low to mid 50's range. Watch for the overall fishing scene to be good if moderate temps return and winds allow anglers access to their favorite spots.



Click Here
For Archived Reelfoot Lake Fishing Reports
Jackie Van Cleave is a guide for Blue Bank Resort. For more information on Jackie's guide services: Click Here
---

Page designed by : Reelfoot.com
All contents except Mallards on front page and David Maass
artwork are property of Reelfoot.com