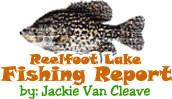 Reelfoot Lake Fishing Report for:
February 24th, 2006
Spring is almost upon us. Today looks like the first sign of it. Highs are supposed to hit the mid 60's and the wind isn't "supposed to be" blowing hard. Would be a nice day to get out there and shake off these post duck season doldrums. Actually, there's a general warming trend over the next few days. With, of course, a chance of rain and a cold front mixed in.
Not a lot of fishing reports as of yet. Crappie are biting and anglers are bringing in some bluegill mixed in with them. Bass anglers are just beginning to test the waters.
Water level is high. Probably 5 inches or more above pool level. Water temperature was 38 degrees a couple of days ago. Here's the rest:
Crappie - They are expected to lead the way this time of year and they are. Jackie has had good days on his last three trips. He reports that they're catching them on jigs in the shallows (2-4 feet) and on minnows in the deep water (10+). Good jig colors include yellow/chartreuse and pink/chartreuse.
There are a lot of black crappie shallow right now. Some are already filling up with eggs in anticipation of the spawn.
Largemouth - Water temps are still low for them to be really active. But, a few warm days might make a big difference in the shallows. They should be the next fish to turn on.
Bluegill - Catching some mixed in with the crappie. Still awful cold for strictly bluegill fishing.
Good Fishin!
Click Here
For Other Reelfoot Lake Fishing Reports
Jackie Van Cleave is a guide for Blue Bank Resort. For more information on Jackie's guide services: Click Here
---
Questions and Comments:
Email the Webmaster
Here




Phone: 731-286-NETW
828 Granger Circle
Dyersburg, TN 38024
Page designed by : The Hometown Network
All contents except Mallards on front page and David Maass
artwork are property of Reelfoot.com