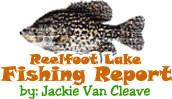 Reelfoot Lake Fishing Report
February 25, 2016

SAY GOODBYE TO FEBRUARY
WARM DAYS AHEAD

Jackie Wayne's Back with another fishing report on Reelfoot Lake...
Speaking of warm weather...itís in the forecast again and should last well into next week. Thatís a welcomed change after our last cold front dropped temperatures along with a lot of rain.

Shallow water temp is in the 50's...deep water temp is in the 40's. Lake level is still above pool about 6 inches.
Crapper are being caught around stems in 3 to 5 feet of water. Also catching them in 8 to14 feet on minnows and jigs.
Bass have turn on and biting spinner baits, jerk baits, spoons, jigs, devil horse so get your tackle ready boys...it's on.
Blue gills are also biting good in the Kirby Pocket area. They are hitting jigs tip with wax worms 2 to 5 feet deep around stems.

Catfish are doing nothing...
Don't forget to get your license. New fishing and hunting licenses are on sale now across the Volunteer State. Your current licenses expire February 29.

New licenses are good from the date of purchase so itís a good idea to get them ahead of time. Don't wait until the last minute...forget and go with last years license.

Prices have not changed from last year. The basic hunting and fishing combination, which is type 001, costs $34. Itís good until the last day of February 2017 and required for those ages 16 through 64 years of age, unless you purchase an annual sportsman license.

Licenses are available at several local licenses agents, county court clerk offices and online at www.tnwildlife.org.

Till next time God Bless and have fun!
Thanks Jackie Wayne !
.
For fishing guide give me a call....

731-431-9700
Jackie Wayne


Click Here
For Archived Reelfoot Lake Fishing Reports
For more information on Jackie's guide services: Click Here
---

Page designed by : Reelfoot.com
All contents except Mallards on front page and David Maass
artwork are property of Reelfoot.com