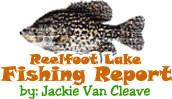 Reelfoot Lake Fishing Report for:
March 1st, 2008
We're back for 2008 and will be posting weekly again. Not much to report just yet, but that should change very soon.
The main species being chased right now are crappie. We've gotten some good reports, but this wintry weather, and even more so this windy weather, has kept a lot of anglers at bay lately.
If the weather allows, the best fishing is in the deeper water (12-14 feet). Minnows are working well there.
Not a big influx of crappie into the shallows yet, but that will change very soon. Still some anglers are having success with jigs in the shallows (6-8) feet. Jackie had a good day last week in these depths. Black/Chartreuse and Blue/White are always good colors for Reelfoot Lake, but try what you have confidence in.
Bass are starting to turn on and depths of 3-5 feet are producing for anglers fishing jig/pig, plastic worms and other slow moving baits. Fish slow. Slow rolling spinnerbaits should also work.
We get a lot of questions about the best time to come fishing on Reelfoot for various species. Make sure to check the archived fishing reports from previous years to see what to expect. Spring weather always plays it's part, but they should give you a good overall view of the best times for each species.
Get those batteries charged and get out there when you can.
Don't forget, last year's fishing licenses expired on February 29th. Get a new one before you head out. You can even purchase them online. For Tennessee license purchases online...click here
Click Here
For Other Reelfoot Lake Fishing Reports
Jackie Van Cleave is a guide for Blue Bank Resort. For more information on Jackie's guide services: Click Here
---


Phone: 731-286-NETW
828 Granger Circle
Dyersburg, TN 38024
Page designed by : The Hometown Network
All contents except Mallards on front page and David Maass
artwork are property of Reelfoot.com