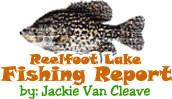 Reelfoot Lake Fishing Report for:
March 11th, 2005
The dreaded spring winds have wreaked havoc on Reelfoot Lake fishermen the last few days and will probably be even worse today. Good news is, it's supposed to, kinda, sorta, maybe have a chance of dying down on Saturday. At lease that's what they're saying as of now. That would be nice since the crappie reports are good if you can get out there.
It's the same old thing every spring. Wind plays a big part in the fishing scene. So, if you find a day that's calm, get out there quick. Have those poles rigged and that battery charged, so you can take advantage of the nice weather when it hits. A couple of hours out on that honey hole that's been unreachable for a few days can produce a nice stringer.
As mentioned, there have been some nice catches of crappie this week. They're scattered in a lot of depths, and that's a big plus when the wind is blowing. Gives some options if you can maneuver to some spots without hitting open water. Check the wind direction and plan your route accordingly. There are still plenty of fish to be caught.
Lake level is holding steady, about 2-3 inches above pool stage. Just enough rain to keep it there lately. Nice high level for some spring fishing and some fish spawning.
Can't say the same for the water temperatures. They ain't holding steady. Unseasonably cold weather has pulled them back down. After creeping up to the 50's, temps are now at 48 in some shallow water areas and as low as 42 on the main lake. Here's the rest.
Crappie-Crappie fishing remains good. The wind has kept anglers off the deep water. But, they're catching them shallow also.
Jackie was bringing in fish from anywhere between 1 1/2 and 10 feet of water this week. So, just because you can't get to the deeper water doesn't mean you can't catch some fish.
Minnows are working well in the deeper depths and jigs are working a little better in the shallows.
One note on fishing the shallows: When approaching a shallow water area, approach quietly. The water is relatively clear and those shallow water fish are very sensitive to commotion. Sneak in there to them. Shut your outboard down before you get to your fishing spot. If you blow a bunch of waves into them, you'll need to wait a little bit before they settle back down.
Vertical fishing and casting jigs are both viable methods. Whatever suits you best. Heck, be ready to try them both if possible. If you're vertical fishing in the shallows, then double what I said in the previous paragraph. Don't be banging the bottom of the boat, etc. They just won't tolerate it.
Bass - It's fair right now. The cold weather takes a slightly bigger toll on them than the crappie.
Still can catch some good sized fish if you spend some time. Jackie said he'd fish a worm or jig and pig and fish it SLOW!
Bluegill - Slow to fair. They're bringing in some while chasing crappie. You could probably catch a mess if you worked for them. Still a little early though, as they like it warmer than the two aforementioned fish.
Good Fishin Folks!
Click Here
For Other Reelfoot Lake Fishing Reports
Jackie Van Cleave is a guide for Blue Bank Resort. For more information on Jackie's guide services: Click Here
---
Questions and Comments:
Email the Webmaster
Here




Phone: 731-286-NETW
828 Granger Circle
Dyersburg, TN 38024
Page designed by : The Hometown Network
All contents except Mallards on front page and David Maass
artwork are property of Reelfoot.com