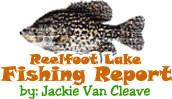 Reelfoot Lake Fishing Report for:
March 14th, 2008
Snow, rain, wind, etc. That's March for you. But, the fishing is good if the weather allows it. It's raining now and is supposed to rain again tonight. The lake level is very high (maybe a foot above pool level).
Haven't been able to catch Jackie this week, as he's fishing about every minute possible and seems his cell phone is on the blink. Maybe we can start a Jackie Van Cleave/Reelfoot.com fishing report cell phone fund.
This week's report comes from Shane Upchurch, also of Blue Bank Resort. We'd just like to say thanks to Shane.
Not much has really changed on the report. Crappie are still biting in the 12-14 foot depths, but are showing a very slight movement towards the shallower depths. Weather is playing it's part, both good and bad. Warmer temperatures lately and in the immediate forecast should pick things up. At the same time, wind and rain should slow them down, the fishermen that is, not the fish.
The average size crappie is good right now also, as these early season fish usually are. Blue Bank Resort had one pushing three pounds come in just a couple of days ago.
If you can find a good day with calm winds you should do very well on crappie. Minnows are the top bait.
The bass fishing is being hindered by muddy water in the shallows from the recent rain and snow. It would be considered slow right now. Cold and muddy just isn't a good water combination for largemouth.
The water temperature is in the 44-45 degree range.
Click Here
For Archived Reelfoot Lake Fishing Reports
Jackie Van Cleave is a guide for Blue Bank Resort. For more information on Jackie's guide services: Click Here
---


Phone: 731-286-NETW
828 Granger Circle
Dyersburg, TN 38024
Page designed by : The Hometown Network
All contents except Mallards on front page and David Maass
artwork are property of Reelfoot.com