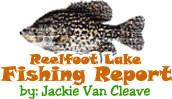 Reelfoot Lake Fishing Report for:
March 17th, 2007
Jackie Wayne says it's on. Fishing has really picked up with the warm weather this week. We've seen very warm temperatures for this time of year and it's made a huge impact. Crappie, Bluegill, Bass, Catfish, you name it and they've been biting. It appears that things are on track for an early spawn if the current trend holds.
Wind was a factor on Friday and a cold front has hit, so it might slow down for a day or two. After that we're looking at lows in the 50's again, so it should be right back on.
Lake level is 4 inches above pool level. Water temperature was 64 degrees. It has probably cooled down a few degrees with the front. Here's the rest:
Crappie - Excellent. Jackie recommends starting shallow (4-5 feet) and drifting toward the deep water until you find them. Minnows and jigs should both produce. Black and red jigs have produced well, especially in the deeper water.
If you find an overcast or real windy day you can also catch crappie in the 1-3 foot depths by casting jigs. Black and chartreuse and blue and white are good colors. You can fish a float or freeline with a 1/32nd oz. jig.
Bass - Bass fishing has really picked up and would be considered good to excellent before this front. The front could slow them down a bit, but don't look for it to last long.
Strike King buzz baits in black and black/red combo should work well. Flukes are another hot bait. Try the shad color with the dark back on cloudy days and the shad with blue back on sunny days.
Bluegill - Good to excellent in the 2 foot depths. A #8 bluegill hook with two waxworms should work well. Try around the bonnets and the shallow shorelines. Fish a slip bobber. Throw it out and twitch it two or three times. If you don't get some action move on. Cloudy days are best
Catfish - Excellent in the ditches or at the mouths of the ditches. Nightcrawlers and shad guts are both producing very well.
Good Fishing!
Click Here
For Other Reelfoot Lake Fishing Reports
Jackie Van Cleave is a guide for Blue Bank Resort. For more information on Jackie's guide services: Click Here
---
Questions and Comments:
Email the Webmaster
Here




Phone: 731-286-NETW
828 Granger Circle
Dyersburg, TN 38024
Page designed by : The Hometown Network
All contents except Mallards on front page and David Maass
artwork are property of Reelfoot.com