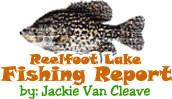 Reelfoot Lake Fishing Report for:
March 18th, 2005
The wind has once again dominated the fishing scene, at least until Thursday. Still some nice catches of crappie being made during the windy days. Jackie headed to the north end on Wednesday to avoid the wind and brought in a nice stringer.
Thursday saw some light winds and Jackie headed for deeper water. Brought in 35-40 keepers out of a catch of 50-60. Another good day.
So, if the wind's not blowing you might want to give them a try in the deep. But if it is, don't despair. There are still plenty of good sheltered spots providing good crappie action.
Bass action has picked up. Catching a few bluegill and catfish also.
Water temps are at 50 degrees and lake level is maybe an inch above pool stage.
Also, make sure to check out these bass and crappie pictures from last week. Here's the rest:
Crappie-Crappie fishing is good right now. Jackie's Tip is: Look for 4-5 nights in a row of temperatures in the 50's to make it excellent.
As mentioned, both the shallows and the deeper depths are producing good fish. Jackie didn't fish any water deeper than 4 feet to bring in his fish on the north end. Then caught a good mess of them out of 8-11 feet of water Thursday on the main lake.
Jigs (casting and jigging) are working well in the shallows. Minnows have been producing in the deeper water.
Bass - Been some nice catches of bass since last week. Would be considered good at this point. Look for the same scenario of warm nights as mentioned above to turn em on even more.
Jackie said if he was going after some bass right now his #1 bait would be a floating jerkbait, also called a stickbait. Smithwick's Rattlin Rogue is the one he uses, but there are other similar baits from a variety of companies.
Try twitching it on top in the shallow pads or jerk it down by stumps in a little bit deeper water. When twitching it on top try a few variations. Slow twitching usually works best, but if that ain't working then give it a little harder tug for more radical action. The jerking method can take a variety of forms. Sometimes they like it a foot or so under the water just jerked along sporadically. Other times you can just jerk it under the surface and let it rise slowly. When fishing it around the stumps try stopping it right beside the stump and they'll often hit it as it slowly rises. Or if you can run it into the stump, just stop it or slow it down a lot as soon as it hits.
There are a lot of ways to fish this bait. Try them all til you find one that works.
Bluegill - Same as last week. Bringing in some while chasing crappie. Not many people actually bluegill fishing yet. Might could catch a decent mess if you put in some time.
Catfish - Kind of like the bluegill. They're starting to pick up a few while crappie fishing. Still early in the season for them.
Good Fishin Folks!
Click Here
For Other Reelfoot Lake Fishing Reports
Jackie Van Cleave is a guide for Blue Bank Resort. For more information on Jackie's guide services: Click Here
---
Questions and Comments:
Email the Webmaster
Here




Phone: 731-286-NETW
828 Granger Circle
Dyersburg, TN 38024
Page designed by : The Hometown Network
All contents except Mallards on front page and David Maass
artwork are property of Reelfoot.com