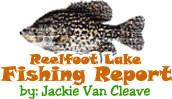 Reelfoot Lake Fishing Report for:
March 18, 2014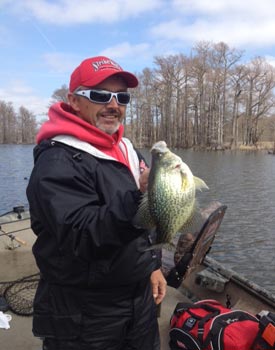 MARCH MADNESS IN FULL SWING....CRAPPIE BITING GOOD


Jack's back with another fishing report. Water temp is in the 50's. The water level is above pool about 10 feet and water color is good.
Crappie are pre-spawn at this time witch is great because you can catch that 1 1/2 to 3 pound fish you been looking for. Now is a great time to find Black Crappie in shallow water, around stumps, mule foot pads, and floating mule foot roots.
White Crappie are still in 6 to 10 foot of water. The best way to catch them is fishing slow until you find them with jigs or minnows in the stumps.
Shore line fishing is poor at this time.
Bass are being caught in duck holes, duck blind stumps, mule foot paps and roots using spinner baits, jigs, top water jerk baits, jig and pig.
Bluegill are slow at this time. Catfish is good using shad worms around trees, logs, ditches and sometimes shorelines. Yellow Bass are being caught in shallow water using jigs and pin minnows.
I've been catching Black Crappie in duck holes casting with float and jig 1/16oz. Strike King red Chartreuse, black chartreuse reeling slow like stop and go.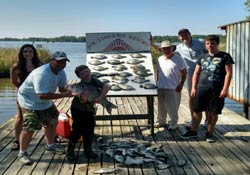 Well, be safe and have fun and if you need me for a guide call 731-431-9700
Gone Fishing

JACKIE

Click Here
For Archived Reelfoot Lake Fishing Reports
For more information on Jackie's guide services: Click Here
---

Page designed by : Reelfoot.com
All contents except Mallards on front page and David Maass
artwork are property of Reelfoot.com