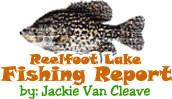 Reelfoot Lake Fishing Report for:
March 19th, 2004
The weather is heating up and so is the fishing. Lots of good reports from last weekend and this week. Crappie lead the way and are being caught in just about every area of the lake. Shallow water, deep water, in between water, it's all producing under the right circumstances.
We've had a few warm days in a row and Saturday is predicted to be even warmer (75). Sounds like prime fishing weather. Of course there is a catch. The wind is supposed to blow from 10-20 on Saturday with gusts to 30. They've been known to be wrong before, but even if it blows you should be able to find a spot to catch some fish.
Water temps were at 51 degrees on Thursday and lake level was a couple of inches above pool. Here's the rest:
Crappie: Crappie fishing is excellent, or good at the least. They're catching em in a bunch of different areas, but the north end has had some exceptionally good reports this week for both numbers and size.
Jackie caught about 100 on Wednesday and kept around 50 good sized fish (3/4 to 2 lb.). We're not saying you'll catch that many, but it shows what's possible.
He recommended trying 6-12 feet of water. Just troll around til you see what's working. Shallower water has also been producing, these are just Jackie's preferred depths right now.
Minnows are catching a bunch, as usual. There have also been some good reports from jig fishermen using black/chartreuse and frog color skirts.
Anglers have also been doing well casting beetle spin type lures around the trees. While we're on that type of lure, make sure and check out the fish-n-spin. Those little suckers flat out catch fish.
Bass: Bass fishing continues to be fair/good. Focus on the shallow water. Good areas to try are Burnt Woods, Snaggy and Big Star. Other shallow water areas should produce as well.
Spinnerbaits (white) and jerkbaits are always safe bets for lures. Jackie likes the bang-o-lure for the jerkbait. Try the shad colors.
Bluegill: Bluegill probably saw the biggest improvement this week and would be considered good. Anglers are doing well with wax worms and popeye jigs up in the trees.
No reports on other species.
Til next week, GOOD FISHING!
Click Here
For Other Reelfoot Lake Fishing Reports
Jackie Van Cleave is a guide for Blue Bank Resort. For more information on Jackie's guide services: Click Here
---
Questions and Comments:
Email the Webmaster
Here




Phone: 731-286-NETW
828 Granger Circle
Dyersburg, TN 38024
Page designed by : The Hometown Network
All contents except Mallards on front page and David Maass
artwork are property of Reelfoot.com