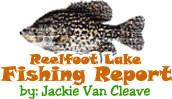 Reelfoot Lake Fishing Report for:
March 23rd, 2007
Fishing remains good at Reelfoot Lake. The temperatures have been great. Of course it is March and the wind is a factor. If you can find a calm day get out there. Heck, if you can find any day get out there. You can find a spot out of the wind if you try a little and there are plenty of fish to be had there also.
One note: Be careful on these windy days. Utilize a route that will keep you from crossing the big water. It can get very rough out there. Follow the shoreline, or find a ramp that provides you an easy, albeit a little longer, route to your honey hole.
The lake level is a few inches above pool level. Water temp is at 60 degrees. Here's the rest:
Crappie - Good. Might be considered excellent if the wind wasn't such a factor.
Jackie was catching them today in 6 feet of water drifting minnows. If the wind lays he'll probably head much deeper, even to the 12-14 foot range.
Bass - Bass fishing is good in the shallows. The bonnets and floating roots are good places to focus on. Good baits this time of year include spinnerbaits, jerkbaits and topwaters. Try white/chartreuse or red/white (a seldom seen color that works well) on the spinnerbaits. Use shad color in the jerkbaits.
Bluegill - Bluegill fishing is good in the shallow water. Popeye jigs tipped with a waxworm work well. Fishing a slip bobber is the easiest, and probably best, way.
While we're talking about popeye jigs; You hear us mention them all the time. Jackie is a big believer in popeyes as he calls them. These jigs are actually made by Spittin Image Popeyes and are available at Blue Bank Resort. They are custom made and really work. Visit this website for more information: www.spittinimagepopeye.com
We'll have more info on these jigs in the weeks ahead.
Catfish - Good. The current has slowed in the ditches, but there's still some good action around the mouths of the ditches. Night crawlers and stinkbait are good baits.
Good Fishing!
Click Here
For Other Reelfoot Lake Fishing Reports
Jackie Van Cleave is a guide for Blue Bank Resort. For more information on Jackie's guide services: Click Here
---
Questions and Comments:
Email the Webmaster
Here




Phone: 731-286-NETW
828 Granger Circle
Dyersburg, TN 38024
Page designed by : The Hometown Network
All contents except Mallards on front page and David Maass
artwork are property of Reelfoot.com