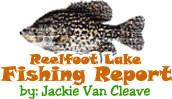 Reelfoot Lake Fishing Report for:
March 24th, 2008
Haven't had much to report since last week's cold snap, that is until today. Crappie and bass fishing have both picked back up and these warm temperatures forecasted should see things getting better and better.
Jackie had a good mess of crappie today from 8 feet of water, so they are showing signs of moving shallower. Depths of 8+ are good right now with the shallower end producing more and more as the water temperature warms up. Water temp is 54 degrees right now.
Minnows are the top bait.
Bass are turning on in the shallows as the water begins to clear up. Bass fishing would be considered good right now. Spinnerbaits, worms and jig/pig combos all should produce. Fish slow until the water warms up another 10+ degrees.
We try not to predict too much, but this weekend has all the signs of being a good time on Reelfoot Lake. Lows are in the upper 40's starting Tuesday night and 50+ Wednesday, Thursday and Friday. Jackie always says to look for 3 days with the lows at 50 or more and it should be on. Well, if the weather man is right, it should be on this weekend.
Of course, wind and rain play their part. Tomorrow is supposed to be very windy, after that they predict it to calm down for at least a day, but who knows. With the fish moving shallower, you should be able to find a spot out of the wind that will produce. Scattered storms are possible most of this week also, so keep an eye on the weather and plan your time on the water accordingly.
The lake level is still very high right now. Well over a foot above pool level.
Good Fishing!
Click Here
For Archived Reelfoot Lake Fishing Reports
Jackie Van Cleave is a guide for Blue Bank Resort. For more information on Jackie's guide services: Click Here
---


Phone: 731-286-NETW
828 Granger Circle
Dyersburg, TN 38024
Page designed by : The Hometown Network
All contents except Mallards on front page and David Maass
artwork are property of Reelfoot.com