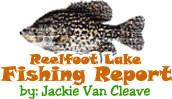 Reelfoot Lake Fishing Report for:
March 25th, 2005
Things are looking good on the Reelfoot Lake fishing scene. Jackie had two excellent days on Wednesday and Thursday chasing crappie. One day fished deep, one day shallow. Caught fish in both. One day fished minnows, one day jigs. Caught fish on both.
The best fishing is almost upon us. Look for the crappie and bass fishing to be at it's best from now until the first week of May, or somewhere thereabouts. Warm weather is in the immediate forecast and it should be a prime time to catch a mess.
Lake level is holding right at pool level. Water temperatures have hit 52-53 degrees in the shallows.
The water is really getting clear lately, so factor that in when fishing the shallows. The fish get a little spooky under clear water conditions. Keep the sun in your face if possible. Also, keep the waves and other commotion to a minimum. Sneak in there on em for best results. Here's the rest:
Crappie-Jackie headed to the shallows on Wednesday to escape the wind and had about 60 nice keepers out of 150+ fish he caught. He fished with black and chartreuse jigs.
Thursday the wind was calm and he headed for open (deeper) water bringing in another 50 nice keepers on minnows.
You can really catch crappie at just about any depth right now. Jackie says, "If you want fast action, try jig fishing in the shallows. If you want to relax try spider rigging on the deeper water (8-12 feet)." Either way you can probably catch a mess of crappie.
Bass - Bass fishing has been good this week. Not any real revelations, just some good fishing. As always this time of year, they're in water less than 5 feet deep for the most part. Same old baits: spinnerbaits (white/chartreuse), jerkbaits, tubes, worms, jigs, etc.
Folks always ask about top areas to fish. Really there are just too many to say that one area is the best. Like the crappie, they could be anywhere. It's always good to focus on structure. Of course, Reelfoot's shallow water ain't nothing but structure and there could be bass on any of it.
You should still probably fish slow due to the water temperatures. But, the water temps are heating up and top water action could show a major improvement soon.
Bluegill - Catching more and more of these little rascals. Lots of them mixed in with the crappie caught jig fishing the shallows. Still a little early. Look for the best fishing to start in mid-April and last until July.
Catfish - No Reports
Yellow Bass - No Reports
Good Fishin Folks!
Click Here
For Other Reelfoot Lake Fishing Reports
Jackie Van Cleave is a guide for Blue Bank Resort. For more information on Jackie's guide services: Click Here
---
Questions and Comments:
Email the Webmaster
Here




Phone: 731-286-NETW
828 Granger Circle
Dyersburg, TN 38024
Page designed by : The Hometown Network
All contents except Mallards on front page and David Maass
artwork are property of Reelfoot.com